Net-game giants Nexon and Axelmark's latest addictive social RPG "Arado Senki SG" has officially gone live on Mobage.
Arado Senki SG is a spin-off of the PC online action RPG Arado Senki, and is a social game with RPG elements which takes place in the same world as its PC counterpart. The game, while a spin-off, is far from sub-par, and features over 30 different job classes as well as varying forms of equipment. Equipment can be attached to each part of the body in true RPG fashion, and you can build up a unique character by changing their equipped weapon, headgear, bodygear, armgear, and leggear etc.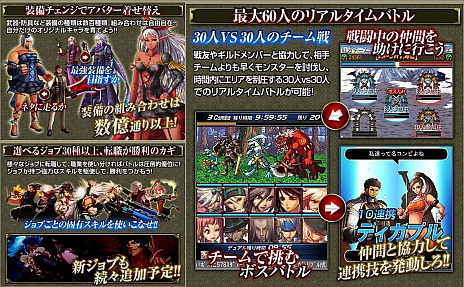 In addition to these basic RPG elements, the game also offers class upgrades for each job, and a real time battle system which can pit up to 30 vs 30 people against each other in intense combat.
At FamilyMart stores across Japan, Mobacoin cards are sold which can be used in game to acquire new items, so those with access to the cards can blow their cash on upgrades if they desire to get an edge in the game. Another cool feature is that by playing SG you will also be presented with new items in the PC version of Arado Senki, making this a must-have title for Arado fans everywhere.
To celebrate the start of the service, the admin team are throwing events such as a "Start Dash Campaign" and "Invite your Friends Campaign". Being a social game, its sure to send out waves of addiction among all RPG lovers of the Mobage realm. If you value your free time, its probably best to stay away from this title, but otherwise go ahead and dive in to the addictive fun of this social battle RPG.
Smartphone Version: http://sp.pf.mbga.jp/12011445
Featurephone Version: http://pf.mbga.jp/12011445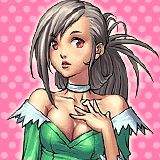 Leave a comment