Ever felt your sunglasses were a tad too drab? Ever feel like your life needed a little more Monster Hunter in it? Boy, do I have the product for YOU!
November 23rd marks an important step in the history of human civilization – where we have evolved to the point that video game themed sunglasses are an actual thing. That exists. Like, in the real world.
These aren't your average pair of shoddy old sunglasses, either. Apparently they took a year and a half to conceive, and are a completely original design from glasses maker ALOOK. Oh and one more thing, they're a soon-to-be-collectors-item limited edition product.
Available from ALOOK Casual Eyewear outlets nationwide (Japan) from November 23rd, the new specs celebrate the greatness that is Monster Hunter.
The tagline for the new glasses plays on the popular Japanese slogan for Monster Hunter of "Let's go for a hunt!" (Hitokari ikouze!) , and the slogan for the glasses (Hitokake ikouze!) loosely translates to "Let's go for a wear!" (Trust me; it's a lot cleverer in the original Japanese). In order to appropriately express the world of Monster Hunter in a pair of sunglasses, designers of the eyewear reportedly collaborated with the development director of Monster Hunter for an entire year and a half. Now that's dedication.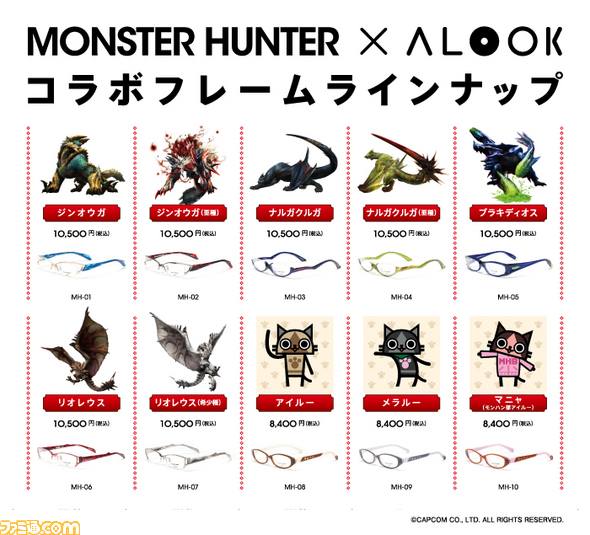 There are ten designs of the glasses, each one based on a different monster from the game: Bracchidios, Zinogre/Zinogre Subspecies, Narukugar/Narukugar Subspecies, Leoleis, Airou, and so on. Each monster's characteristic features have somehow been preserved in the frame of the glasses, and you will be surprised about just how obsessed the designers are with Monster Hunter just how detailed the designs are.
In addition to the frames, the glasses also come with a custom case and wiping cloth, each adorned with the rich tapestry of your chosen digitized beast. Certainly a must-have item for any true fan of the RPG series from Capcom.
Oh yeah, and in case you were wondering what this whole promotional parade was about, you must have missed the part where Wii U has an exclusive Monster Hunter game (Monster Hunter 3G HD) coming to it on December 8th.
For such a rare and exclusive set of glasses, you must be wondering what price they will be sold at? Well, the main monster line will be sold at 10,500 Yen a pair, while the Airou line will set you back 8,400 Yen. Get your wallets ready, Monster-lovers!
Official Site: http://www.alook.jp/feature/monsterhunter/
Leave a comment